By Matthew Crowder
The NFL draft is coming around April 27th through April 29th on the NFL Network.
Cleveland Browns- Defensive End, Myles Garrett, Texas A&M Aggies -The Browns need someone who can pass rush for their defense and Myles Garrett would be the successful first round pick for their defense if chosen by Cleveland.
San Francisco 49ers- Wide Reciever,  Mike Williams, Clemson Tigers – The 49ers didn't have a good passing offense at all last year, so if they pick up a big wide receiver like Williams. Other than that the 49ers are predicted to pick a quarterback
Chicago Bears- Corner Back, Jabrill Peppers, Michigan Wolverines -Jabrill Peppers was probably one of the most excited players to watch in college because of his ability to read the quarterback's eyes and make big plays. He can also play at linebacker which a lot of players can't play two positions in pro football.
4.Jacksonville Jaguars- Offensive Tackle, Cam Robinson, Alabama Crimson Tide, to get that running game going the Jaguars to pick some offensive line in this draft because they have good running backs with Chris Ivory and T.J. Yeldon, but haven't done good lately because their offensive line is beat up.
Tennessee Titans( traded from the Los Angeles Rams)- Safety, Malik Hooker, Ohio State Buckeyes, the Titans need a guy like Hooker who can cover and can play the run as well.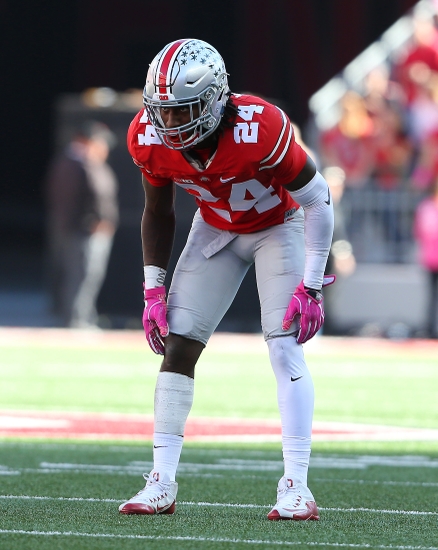 6.New York Jets- Quarter Back, Deshaun Watson, Clemson Tigers, the Jets plan on letting Ryan Fitzpatrick go to the free agency,  so if they grab a guy that can big plays and can run with his legs. He also has been to two championships, only winning one that could really help the Jets to become a better offensive football team.
San Diego Chargers- Safety, Jamal Adams, Louisiana State University Tigers, the Chargers lacked at a safety position last year after letting Eric Weddle go and with Malik Hooker taken by the Titans the next best safety would be Adams and Adams is the best cover safety coming out of the SEC conference.
Carolina Panthers- Running Back, Dalvin Cook, Florida State Seminoles tough pick for the Panther, but I think they need a running back because Jonathan Stewart is almost 30 years in old and it would be a great pick if they picked up a young running back who can play great football, if the Panthers don't pick Cook, then they might go with Leonard Fournette who is predicted at the top back in the draft.                                                                                                                                                                                                                                                                                                                                                                                                                                                                                                                                                                                          

                                                                                                                                                                                                                                                                                                                                                                                                                                                                                                                                                                                                                                                                                                                                                                                                                                
 9. Cincinnati Bengals- Offensive Tackle, Garett Bolles, Utah Utes, The Bengals need help at tackle because Andy Dalton got sacked to much last year and their run wasn't as good as previous years. The Bengals lost some key offensive linemen in free agency and Bolles would be a great help for that line up front. Bolles has intrigued some scouts as an athletic edge blocker with outstanding athleticism and agility.
1o. Buffalo Bills-Wide Reciever, Corey Davis, Western Michigan Broncos-
11. New Orleans Saints, Jonathan Allen, Defensive End, Alabama Crimson Tide- Allen was an exiting guy to watch on that Alabama squad who made plays every down for the Tide. He also led Alabama to 1 national championship and 3 SEC championships with many awards given to him. He will be a great fit for that Saints defense because they haven't had that defensive star on their team.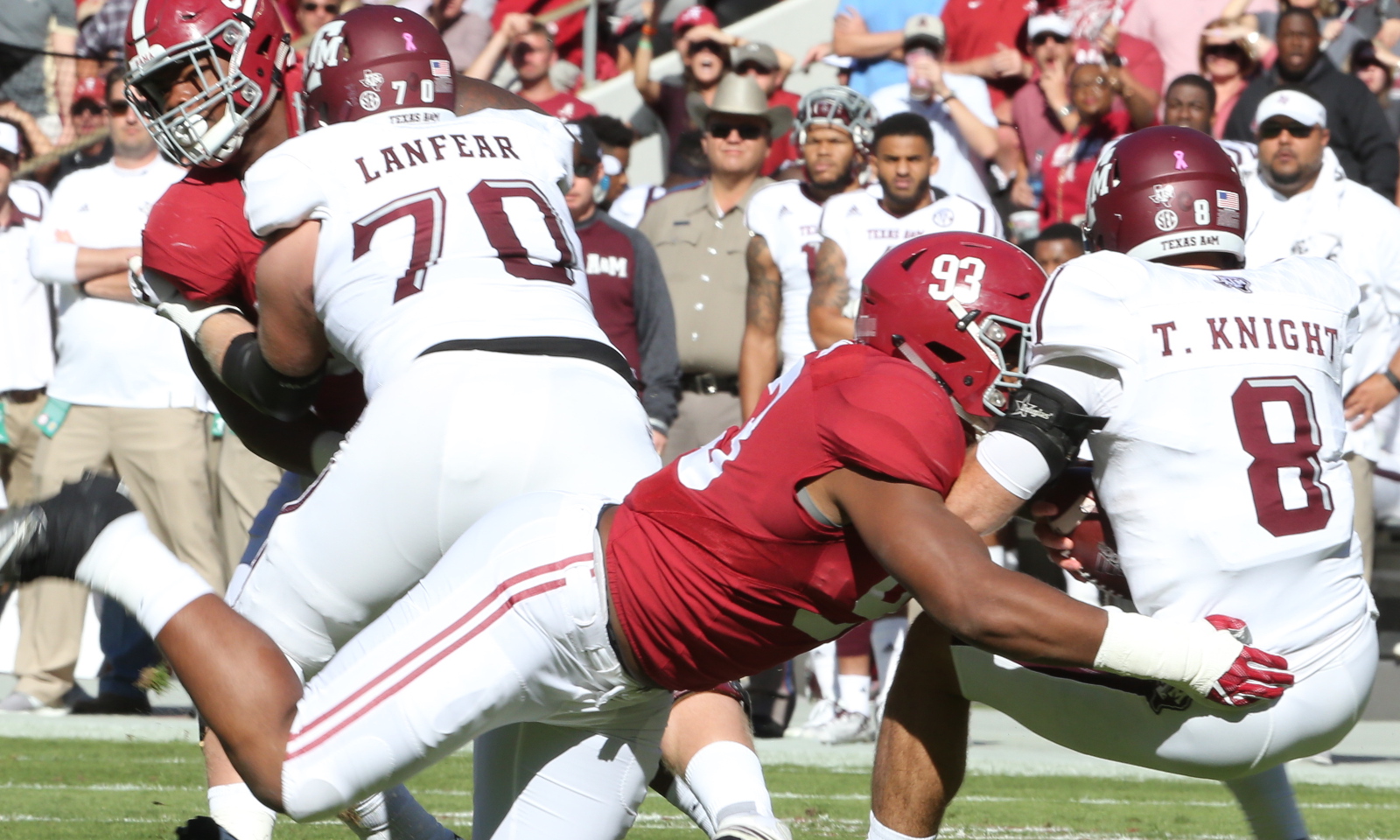 12. Cleveland Browns( traded from the Philadelphia Eagles)- Quarter Back, Deshone Kizer, Notre Dame Fighting Irish, the Browns already got a pass rusher at number one, so they need at quarterback at this pick because Robert Griffin III is not a healthy quarterback and have already released him with Kizer's  prototypical physical dimensions, arm talent and athleticism are solid, but his inconsistent play during his final season will raise some concerns about his readiness for the pro game.
13. Arizona Cardinals- Outside Linebacker, Takkarist McKinley, UCLA Bruins- the Cardinals might need a quarterback and a receiver, but that can wait for next years draft when Palmer and Fitzgerald are gone, so to upgrade their defense they need a outside linebacker who can stop the run and cover tight ends if needed.
14. Philadelphia Eagles( traded from the Minnesota Vikings)- Corner Back, Teez Tabor- Florida Gators, the Eagles don't need much from the draft, but by picking Tabor it adds more depth to the position. Tabor will intrigue scouts looking for a big, athletic press corner with the length to snuff out receivers at the line. Although his technique and backpedal needs some work, there is always a place for long corners in schemes that prominently feature bump-and-run coverage in the game plan.
15. Indianapolis Colts- Offensive Guard, Dan Feeney, Indiana Hoosiers- native player in the state of Indiana would be a good guard for the Colts because the Colts have one of the worst offensive line in football. It would give Frank Gore more yards to run and Andrew Luck more time to throw.
16. Baltimore Ravens- Running Back, Leonard Fournette, LSU Tigers, over the years the Ravens haven't had a good running back lately and Fournette is the guy for their offense. The Ravens have a great offensive line that can boost Fournette when he runs the ball. Fournette is a rugged runner with an old-school game that makes him an ideal workhorse in a power-based system.
17. Washington Redskins- Wide Receiver, JuJu Smith-Schuster, University of Southern C California Trojans- the Redskins are in need of a receiver if Garcon and Jackson can't be resigned. He is 6'2 and has similar qualities like Anquan Boldin has. I think Smith-Schuster is an explosive player that can make a big impact for the Redskins offense.
18. Tennessee Titans- Middle Line Backer, Reuben Foster, Alabama Crimson Tide- the Titans already have a safety at the number 5 pick, so to get more defensive depth at linebacker the Titans should draft Foster, Foster is the top dog of the group as a punishing defender with exceptional instincts, awareness and physicality.
19. Tampa Bay Buccaneers- Defensive End, Solomon Thomas, Stanford Cardinal- the Buccaneers actually had a pretty decent season last year was the reason they have a higher overall pick at 19 and not in the top 10. The Buccaneers need some guys that can pass rush and Thomas is a young guy that can get that down for the Buccaneers up front. Thomas is a disruptive force as a pass rusher. He flashes outstanding quickness and violent hands as a versatile defender at the point of attack.
20. Denver Broncos- Offensive Tackle, Ryan Ramczyk, Wisconsin Badgers- the Broncos former Super Bowl champs were not so good at the line of scrimmage, so by picking Ramczyk it would help boost their offense upfront. He could be a good potential starter for whoever's place he will be taking.
21. Detroit Lions- CornerBack, Marshon Lattimore, Ohio State Buckeyes- would be a great pick for the Lions because they are struggling with having good corners. Lattimore is an explosive athlete with exceptional movement skills and instincts. He lacks the physicality that some coaches covet but there's no denying his cover skills, particularly in bump-and-run coverage.
22. Miami Dolphins-Running Back,  Christian McCaffrey, Stanford Cardinal- Would give a good workload of running the ball to give Jay Ajayi rest, he is also and good backfield receiver  and can be their new explosive punt and kick returner who beat Barry Sanders all purpose yards and college and can do the same in the NFL if the Dolphins persuade to pick him. His dad was a pro receiver for the Denver Broncos, so if the Broncos pick him I wouldn't be surprised about the pick, since Ed McCaffrey played with John Elway. John Elway is now the General Manager and vice president of football operations for Denver.
23. New York Giants- Defensive End, Derek Barnett, Tennessee Volunteers, Jason Pierre Paul and Jonathan Hankins may become free agents for the Giants next year and to fill their positions Barnett would be the next top guy on the list. Strong edge presence with NFL-caliber hand usage and play strength. Barnett is one of the most productive defensive linemen to come out of the SEC in quite some time despite lacking the length and twitch that teams usually look for off the edge. His awareness and play traits should keep him near the action and he has the talent to step into a starting base end spot right away. He has great hand movements to get away from blockers to stop the run and sack the quarterback.
24. Oakland Raiders- Defensive Tackle, Malik McDowell, Michigan State Spartans- I think the Raiders were fantastic on defense last season and blitzing was great, but to add more depth adding McDowell could be an improvement at the position with his strength and size at 6'6. McDowell is at top of the group as a long, rangy interior defender with disruptive potential as an inside rusher. Although questions about his motor will trouble scouts looking for a dominant player at the top of the board, he is certainly a player who flashes intriguing potential.
25. Houston Texans- Defensive Tackle, Elijah Qualls, Washington Huskies, Vince Wilfork is 35 years old and his season is coming to an end and it has been great at the position for a long time, but the Texans need a replacement and Qualls is the because he is a fire hydrant at the line of scrimmage as an immovable run stopper with exceptional power and speed. He isn't very big, but they won't stop him from blocking passes at the line of scrimmage and get to the quarterback faster.
26. Seattle Seahawks- Offensive Guard, Forrest Lamp, Western Kentucky- the Seahawks didn't have that good of a power running game last season and I bet Pete Carroll wouldn't mind having a 6'4 rookie to coach next season because Lamp has all the skills the Seahawks need. His  athleticism to handle athletic interior rushers while being able to fit into diverse rushing attacks that ask more from the guards and centers. His ability to potentially line up at tackle, guard or center will only increase his value.
27. Kansas City Chiefs- Safety, Justin Evans, Texas A&M Aggies- With Eric Berry signed back to Kansas City it wouldn't hurt Kansas City if they picked up more depth at the position because Justin Evans is a good cover safety who also played in the SEC, but is very underrated at his position.
28. Dallas Cowboys- Raekwon McMilan, Middle Linebacker, Ohio State Buckeyes, McMilan is a  solid play maker with excellent communication skills and outstanding athletic ability. Wouldn't be a bad pick for Dallas to help out with the other linebacker Sean Lee. McMilan would fill in nicely with that defense with good run stoppage and cover skills.
29. Green Bay Packers, CornerBack, Marlon Humphrey, Alabama Crimson Tide, I feel like if the Packers would have had better cover corners last season they might have went to the Super because their offense was outstanding. Picking Humphrey would be a good start because he has the instincts and run-support skills to become an early starter for a zone-cover defense, but it will be hard for teams looking for a lock down, man corner to pass on all of those physical gifts early in the draft.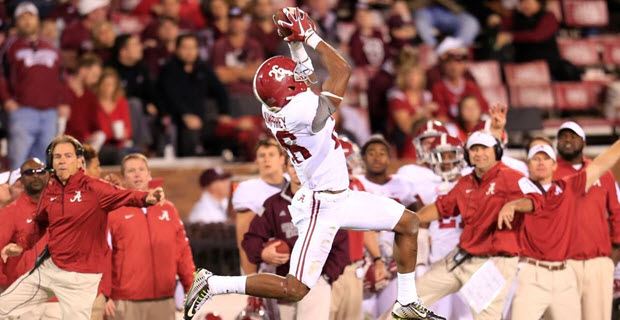 30. Pittsburgh Steelers- Outside LineBacker, Tim Williams, Alabama Crimson Tide, with James Harrison, 38 nearing the end of his fantastic career at Pittsburgh, so the Steelers could potentially pick up a guy to replace him. Williams is a shop wrecker off the edge with explosive first-step quickness and burst. In addition, he shows the ability to turn speed into power as a bull rusher off the edge like some of the stuff Harrison is doing. They still have Lawrence Timmons and middle linebacker with great pass rushing and good run reading, but Williams could help on the other side to get the sack.
31. Atlanta Falcons- Defensive End, Taco Charlton, Michigan Wolverines, is a big defensive end at 6'6 that can bat away passes at the line of scrimmage as well as pass rush for Atlanta who didn't really have any trouble with that last season, but they are about ready to lose some Defensive ends to free agency. High-impact defensive end with all-pro potential is his ceiling. His floor is solid starter.
32. New England Patriots- Defensive End, Charles Harris, Missouri Tigers- High cut pass rusher with good athleticism but concerns regarding his ability to drop anchor against the run. Ironically, Harris might be best suited as a penetrator which is something he fought against this season. His hands can be improved as pass rush weapons, but he has agility and footwork that can't be taught. Harris can play on the edge in a 4-3 or 3-4 front and should be the next in a line of early contributing defensive ends coming out of Missouri. I watched this guy in every game because I'm a Mizzou fan and he was probably the most exciting player on that defense because his ability to make big plays on the quarterback down. His play against the run is okay, but it could be better but other than that this guy is a solid player at the position he played at for the Tigers.