Kareem Hunt is a running back in the National Football League (NFL) who currently plays for the Cleveland Browns. He was born in Lorain, Ohio, on August 6, 1995, and measures 5 feet 11 inches (1.80 meters) tall and weighs 216 pounds (98 kilograms). Hunt played college football for the Toledo Rockets before being taken in the third round of the 2017 NFL Draft by the Kansas City Chiefs.
He made an immediate impact in the NFL, winning Pro Bowl honors in his rookie season. His stint with the Chiefs, however, ended in controversy due to an off-field incident, and he signed with the Cleveland Browns in 2019. Throughout his career, Hunt has been noted for his rushing and receiving ability, which have helped his teams' offensive schemes.
Kareem Hunt Injury Update
Kareem Hunt, the Cleveland Browns' running back, did not practice recently due to a thigh ailment. Kevin Stefanski, the team's head coach, is optimistic that Hunt will be able to play against the Seattle Seahawks on Sunday.
Check out the below tweet:-
#Browns RBs Pierre Strong Jr., Nate McCrary and Jordan Wilkins in practice Wednesday as Kareem Hunt worked on the side, dealing with a thigh injury. pic.twitter.com/xDVfa3CTC2

— Camryn Justice (@camijustice) October 25, 2023
Hunt has been an important element of the Browns' running game, improving in recent games after a rocky start earlier in the season. Despite his injury, the team is optimistic about his participation in the upcoming game, but his condition will be continuously watched during the week.
Kareem Hunt Career
Kareem Hunt's professional football career began when he was picked in the third round of the 2017 NFL Draft by the Kansas City Chiefs. He instantly made an impression, taking over as the Chiefs' starting running back after the previous starter was injured. In his first game, he set an NFL record by accumulating 246 total yards.
Hunt had an impressive first season, leading the league in running yards and earning a position in the Pro Bowl. In his second season, he continued to flourish, but his time with the Chiefs was cut short after a video surfaced showing him in a physical conflict with a lady. In 2018, the Chiefs released him.
Hunt earned a new opportunity with the Cleveland Browns after overcoming obstacles: he signed with the Browns in 2019. He was suspended, however, for breaking the league's personal behavior rules. Despite this setback, Hunt returned to the game and made an important contribution to the team.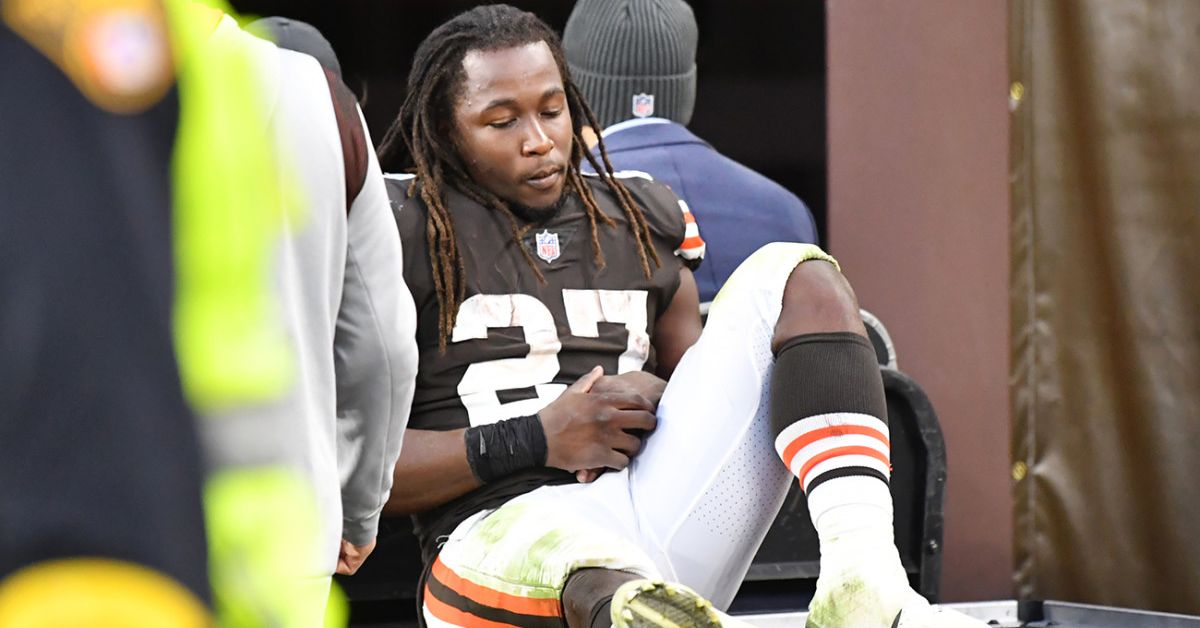 He showed his abilities as both a runner and a receiver, becoming an important player for the Browns. He was injured several times throughout the years, but he never gave up, exhibiting his tenacity on the field.
Hunt's career, despite its ups and downs, displays his tenacity and talent: His rise from high school standout to NFL star is a testament to his perseverance and commitment. Despite obstacles, he continues to shine in the game, establishing himself as a valued asset to his club and an NFL player to watch.
You can also check out our below posts related to other stars who get injured:-
What Happened To Kareem Hunt?
Kareem Hunt, the Browns' running back, was unable to practice due to a thigh issue. This came after he began to contribute considerably to the team's recent success in the running game. Hunt joined the Browns in Week 3 and struggled at first, but he has improved in the last two games, rushing for 78 yards and scoring three touchdowns.
Check out the below tweet:-
#Browns Kareem Hunt said he knows he has to stay ready for anything and is prepared to step up with Jerome Ford dealing with an ankle injury. pic.twitter.com/kpkoZMyDcF

— Camryn Justice (@camijustice) October 25, 2023
His injury comes at a critical moment for the Browns, who are already suffering from backfield problems. Despite this setback, both the team and Hunt are optimistic about his rehabilitation and his participation in Sunday's game against the Seattle Seahawks. The Browns' coaching staff is constantly monitoring his condition in order to evaluate his availability for Sunday's game.
You can follow our website countycurrent.com and view our most recent updates if you'd like to receive more recent information about what happened to your favorite athletes.