Terry Funk was an American professional wrestler and actor who died with a $1 million net worth. Terry Funk died on Wednesday, August 23, 2023, at the age of 79. He was a well-known wrestler who held the record for the longest wrestling career.
He has worked in the wrestling industry for almost 50 years in his professional career. He began his professional wrestling career in Amarillo, Texas, with the Western States Sports Company in 1965. In this article, we'll learn more about Terry Funk's death and net worth as of 2023.
Terry Funk's Cause of Death
Terry Funk, a WWE wrestling veteran, died at the age of 79, according to his manager Timothy Beal. The cause of death was not immediately revealed, but Beal noted that Funk "was in bad health for some time" and was "in a nursing home."
Funk's wrestling was a family affair. Growing up in Amarillo, Texas, his father, Dory Funk, Sr., was a professional wrestler who began as a tag-team wrestler with his brother, Dory Funk, Jr.
In the 1980s, Funk rose to notoriety as part of a tag team with his brother at WrestleMania 2. During his 50-year career, he only competed in the United States and Japan. Wrestling friends and fans reacted to his passing on Wednesday, August 23, 2023.
"He was the greatest wrestler I ever saw," former WWE champion Mick Foley said on social media.
Terry Funk is gone. I just talked to Terry's daughter, Brandee, who gave me the awful news. He was my mentor, my idol, one of the closest friends. He was the greatest wrestler I ever saw.

If you get the chance, look up a Terry Funk match or a Terry Funk promo, and give thanks… pic.twitter.com/WwdFLwXqZ0

— Mick Foley (@foleyispod) August 23, 2023
Funk's wrestling career was given a second chance when he joined Eastern Championship Wrestling, and later Extreme Championship Wrestling.
On social media, professional wrestler Ric Flair described Funk as "a great wrestler, entertainer, unbelievably fearless, and a great friend."
In My Entire Life, I've Never Met A Guy Who Worked Harder. Terry Funk Was A Great Wrestler, Entertainer, Unbelievably Fearless, And A Great Friend! Rest In Peace My Friend Terry Funk Knowing That No One Will Ever Replace You In The World Of Professional Wrestling! 🙏🏻🙏🏻🙏🏻 pic.twitter.com/EYMAKOzxnx

— Ric Flair® (@RicFlairNatrBoy) August 23, 2023
He and his brother were honored in the WWE Hall of Fame in 2009. His most recent wrestling match was in 2017. Funk's breakout performances in Hollywood films were likewise well-known. He appeared in three films with Patrick Swayze: "Roadhouse," "Paradise Alley," and "Over the Top."
Check out our more posts in which we have covered the cause of death of other celebrities:-
Terry Funk Career
Terry Funk's wrestling career displays his unwavering dedication to the sport as well as his incredible adaptability. Funk's professional wrestling career began in the 1960s, and he went on to conquer different areas and promotions, establishing himself as a great wrestling icon.
Funk began his career in minor promotions, but it was in the National Wrestling Alliance (NWA) that he truly shined. He held the renowned NWA World Heavyweight Championship on many occasions, demonstrating his prowess as a top-tier athlete and attracting crowds to venues with his fierce and dynamic performances.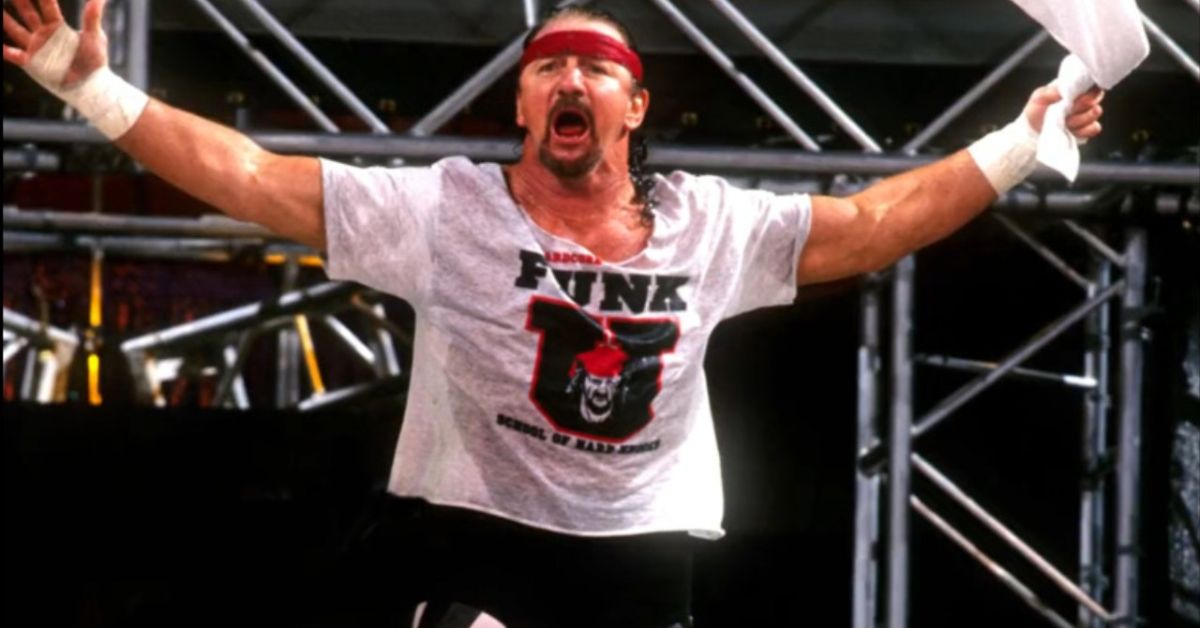 Funk's ability to adapt to the changing wrestling world was one of his defining characteristics. He moved easily from traditional wrestling matches to the developing hardcore and extreme forms, giving him the nickname "The Hardcore Legend." His vicious, no-holds-barred matches made an everlasting imprint on the wrestling world and inspired a new generation of wrestlers.
Funk's career was marked by famous clashes and collaborations. His feuds with legends such as Ric Flair and Dusty Rhodes, as well as partnerships with wrestlers such as Dory Funk Jr. and Mick Foley, added to his illustrious career.
Terry Funk made an impact on the wrestling profession as a mentor and trainer, cultivating fresh talent at the Funking Conservatory, a wrestling school he co-founded. In conclusion, Terry Funk's career is a woven tapestry of achievements, innovations, and adaptability.
His lasting impact on professional wrestling and ability to remain relevant across generations make him a true sports entertainment great.
Conclusion:- If you have read this post, we would appreciate it if you would leave your feedback in the section that has been provided. It would be best if you looked at our website, countycurrent.com.