Shawn Kemp was arrested for allegedly participating in a drive-by shooting and taken into custody in Pierce County, Washington. Shots were reportedly fired in the parking lot of Tacoma's main retail mall, the Tacoma Mall, prompting police to respond.
Law enforcement located and confiscated a firearm, but no one was hurt. The former NBA player, now 53 years old, faces up to 10 years in prison for the felony charge of shooting from a moving vehicle. Throughout the '90s, Kemp was arguably the most well-liked NBA player.
Who is Shawn Kemp?
Kemp, who never played college basketball, made his NBA debut during the 1989–90 season at 20. He earned fame for his incredible athletic dunks. Kemp, formerly of the Seattle SuperSonics, Cleveland Cavaliers, Portland Trail Blazers, and Orlando Magic, has been named to the All-Star team six times. Between 2005 and 2006, he was involved in two separate drug-related incidents that led to his detention.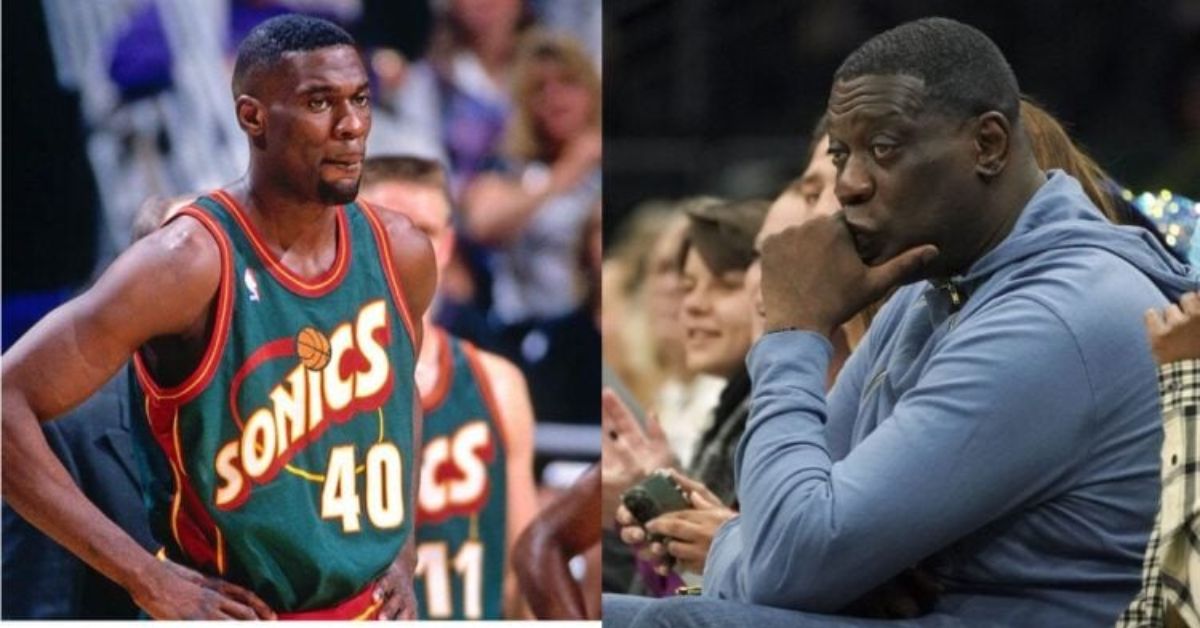 Kemp had a 14-year NBA career, earning over $91 million, and helped the Sonics reach the 1996 NBA Finals. In 2020 he established a pot shop in Seattle's Belltown area. The Seattle SuperSonics picked him with the 17th overall pick in the 1989 NBA Draft, even though he did not play college basketball. The strong forward's 14.6-point and 8.4 rebounds average in the NBA was impressive.
Eddie Johnson said at the time-
"Shawn Kemp is unstoppable. He's terrifying. Nobody wants to defend him. I told him he's looking more and more like Karl Malone. When he gets in the zone you don't want to get in his way."
Check out the following articles we've written on celebrities if you're interested in finding out more:
The rumors that he had 11 children with nine different women after his career are likely exaggerated, although he does have seven children with six other women. Kemp and Gary Payton were instrumental in reviving Seattle's NBA profile in the '90s. He was a vital member of the Sonics' run to the 1996 NBA Finals, where Michael Jordan and the Bulls defeated them.
He Was Arrested for a Drive-by Shooting
Washington state prosecutors have said that former NBA All-Star Shawn Kemp will not be charged with a drive-by shooting. On Wednesday, the six-time All-Star and United States team world champion from 1994 was detained for his alleged role in a shooting in Tacoma. Once the inquiry into the event is complete, Kemp will be released from jail.
Sgt. Darren Moss, a Pierce County Sheriff's Office spokesperson, claimed that the ex-player, then 53 years old, was jailed on a felony charge of a drive-by shooting at around 6 o'clock.
When the Tacoma Police Department announced on social media that they had arrested Kemp, they also mentioned that shots had been exchanged between two automobiles at a neighborhood shopping mall. No one was hurt, and an investigation was launched because a weapon was found.
At 1:58 pm, an altercation between the occupants of 2 cars led to shots being fired at a parking lot in the 4500 blk of S. Steele St. One car fled. No injuries were reported. A gun was recovered. A 53-yr-old male was booked for Drive-By Shooting. The investigation is ongoing. pic.twitter.com/XTIeU1I4Jj

— Tacoma Police Department (@TacomaPD) March 9, 2023
In this post, we've told you everything we know about Shawn Kemp. He was caught and taken to the Pierce County jail in Washington on charges of shooting someone from a car. If you want to learn more about him, leave a comment. Follow us on the Twitter handle for more information and up-to-date news.