As several sections of Southern California, including the Los Angeles area, experience heavy snowfall and historic rainfall resulting in catastrophic floods, a rare blizzard warning is still in force for those areas on Saturday.
The National Weather Service reported that an outbreak of severe weather along the West Coast has led to unusual wintry conditions at higher elevations, notably over mountainous portions of Los Angeles and Ventura counties, where up to a foot of snow may couple with 80 mph winds.
There will still be blizzard warnings through Saturday afternoon. Since 1989, there has not been a blizzard warning from the Los Angeles office of the National Weather Service. At the same time, the Los Angeles metropolitan area, which had flooded the day before, is anticipated to face more torrential rain on Saturday.
"A cold, strong, and potentially dangerous winter storm will bring periods of heavy rain and mountain snow with gusty southerly winds to most of Southwest California through Saturday," according to the weather service.
A statement made on Saturday by the Los Angeles County Fire Department's lifeguard division, all public beaches in the county have been closed due to the risk of lightning strikes. Road flooding brought on by a storm system moving through the region has forced the temporary shutdown of some of Interstate 5 in Southern California.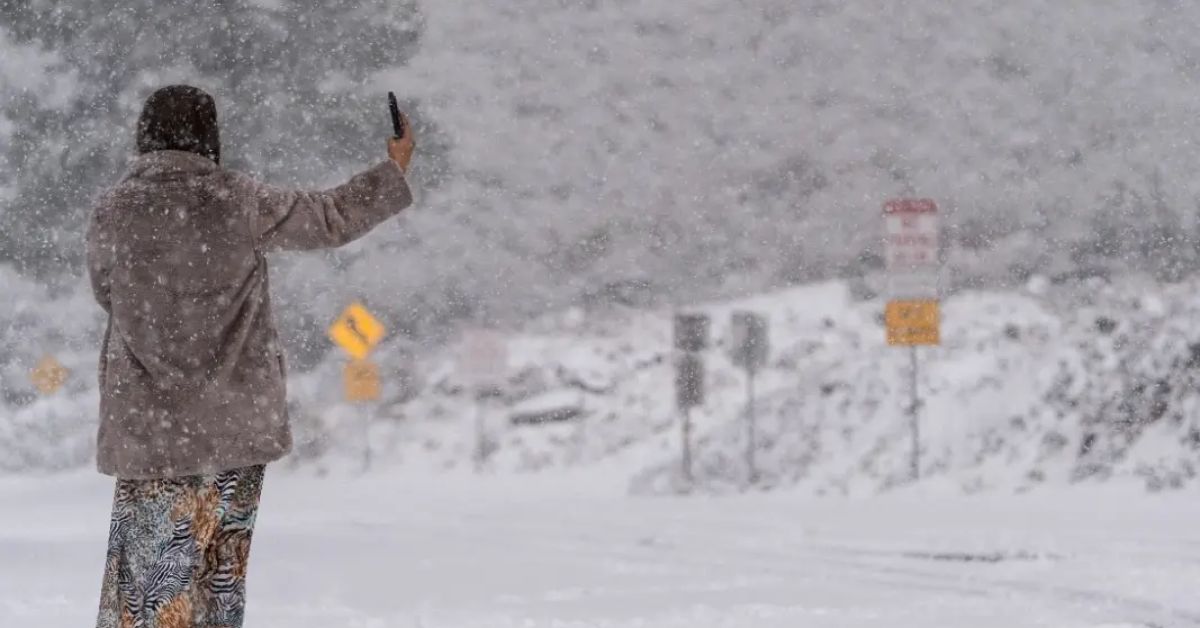 The warning was issued as numerous power outages caused by this week's severe weather across the state persisted for more than 100,000 homes and businesses in several counties early on Saturday. The forecast calls for shallow temperatures, with Northern California potentially experiencing below-freezing temperatures. Ngugi Kihara, a local, was surprised to see snow covering the Santa Cruz Mountains on Friday.
"(We've) never seen this much snow up here," Kihara told CNN on Friday. "We woke up to it. It started yesterday but picked up a lot overnight. Lots of trees are falling and all the roads around us are closed. Power is out and has been mostly gone since Tuesday."
According to the National Weather Service, there is still a chance for additional power outages on Saturday. Even when the snow stops falling because of solid gusts that can sweep the snowflakes off the ground, the heavy snow and strong winds can ultimately result in almost zero visibility for individuals in the region. Extreme caution is advised when driving, according to weather alerts.
According to the National Oceanic and Atmospheric Administration, between 20 and 40 inches of snow fell at Big Bear Lake's high altitudes over three days as of Friday evening. Also, according to the organization, state officials had to restrict roads on Friday morning because of the large number of stalled automobiles.
The weather service issued a flash flood warning on Friday after heavy rain and snow combined to convert several local roads in the Los Angeles area into rivers. Once the water levels rose and several routes became inaccessible, motorists and vehicles were spotted stranded.
A flash flood warning was still in effect on Saturday morning for around 1 million Los Angeles, Glendale, and Santa Clarita residents throughout the late-night hours.
There are many articles like this one that you can read for updates and additional details. A relevant link is provided below:
Predictions for This Weekend's Rain in California
As overnight flash floods continued north and west of Los Angeles, the Weather Prediction Center stated early on Saturday that heavy rain would persist into the weekend over locations with lower elevations.
The region may anticipate 2 to 4 inches of widespread rainfall on Saturday, which will likely cause flooding issues in places south and east of Los Angeles. Up to 2.5 inches of rain are also expected to fall in San Diego, and sections of southwest California are still under a flood watch through Saturday night.
Due to this week's back-to-back storms, Saturday's rain will reach already soggy terrain, worsening the effects of potential floods. Many states were devastated by devastating flooding in late December and early January. As of roughly 5:30 p.m. local time on Friday, the rainfall shattered several daily records for California:
A rainfall total of 1.23 inches was set at Los Angeles International Airport. The prior record, 0.75 inches, was established in 2008; this beats it.
The previous record of 0.25 inches, set in 1987, was beaten by Lancaster's 0.26-inch rainfall.
Rainfall totaled 0.74 inches in Camarillo, before 0.66 inches, recorded in 1941.
Michigan Blackouts Would Not Be Completely Restored Until Sunday
Thousands of people in the Midwest are still being impacted by the same weather system's repercussions that hit California and several other areas around the nation earlier this week.
According to the tracking website PowerOutage.us, about 500,000 homes and businesses in Michigan were still without power as of Saturday after a strong winter storm produced hazardous ice conditions. With almost 150,000 outages, Wayne County had the most.
One of Michigan's most prominent electric companies, DTE, is restoring power to affected areas but has advised that most customers won't get their service back until Sunday. The storm pounded the Great Lakes region and several western states, which dumped snow in groups over several days.
As more than 40 inches of snow fell in the southern sections of the state over several days and drivers became stranded in deep snow, the state highway patrol reported on Twitter that crews in Wyoming were in search and rescue mode.
Due to the snowfall on Friday, Minneapolis, Minnesota, officials issued a one-day snow emergency, and city personnel has been treating and shoveling streets ever since. Almost 13 inches of rain fell on the city over three days this week.
Many inches of snow have fallen in several places since the storm started on Monday evening, including 48 inches in Battle Lake, Wyoming, 32 inches in Dupuyer, Montana, and 29 inches in Park City, Utah.
According to a tweet from Yahoo News-
"Authorities believe icy roads caused a 15-vehicle pileup on the Massachusetts Turnpike that sent several people to the hospital. Photos shared by police show crushed cars pinned beneath and between tractor-trailers, some stacked up."
Authorities believe icy roads caused a 15-vehicle pileup on the Massachusetts Turnpike that sent several people to the hospital.

Photos shared by police show crushed cars pinned beneath and between tractor-trailers, some stacked up. https://t.co/m7GXwDIxAN

— Yahoo News (@YahooNews) February 24, 2023