According to a spokeswoman, Mitch McConnell, the Senate Republican leader, stumbled and fell at a hotel on Wednesday night and was brought to a hospital in Washington, DC. David Popp said McConnell, 81, fell "during a private dinner."
McConnell sustained a concussion, according to Popp, who said he would be hospitalized for "a few days" for monitoring and care. Popp said:
"The leader is grateful to the medical professionals for their care and to his colleagues for their warm wishes." 
McConnell overcame polio as a child. He tripped and broke his shoulder in 2019 while at home in Kentucky. Images of his bandaged and bruised wrists and the bruising around his mouth led to health concerns being shot down in 2020.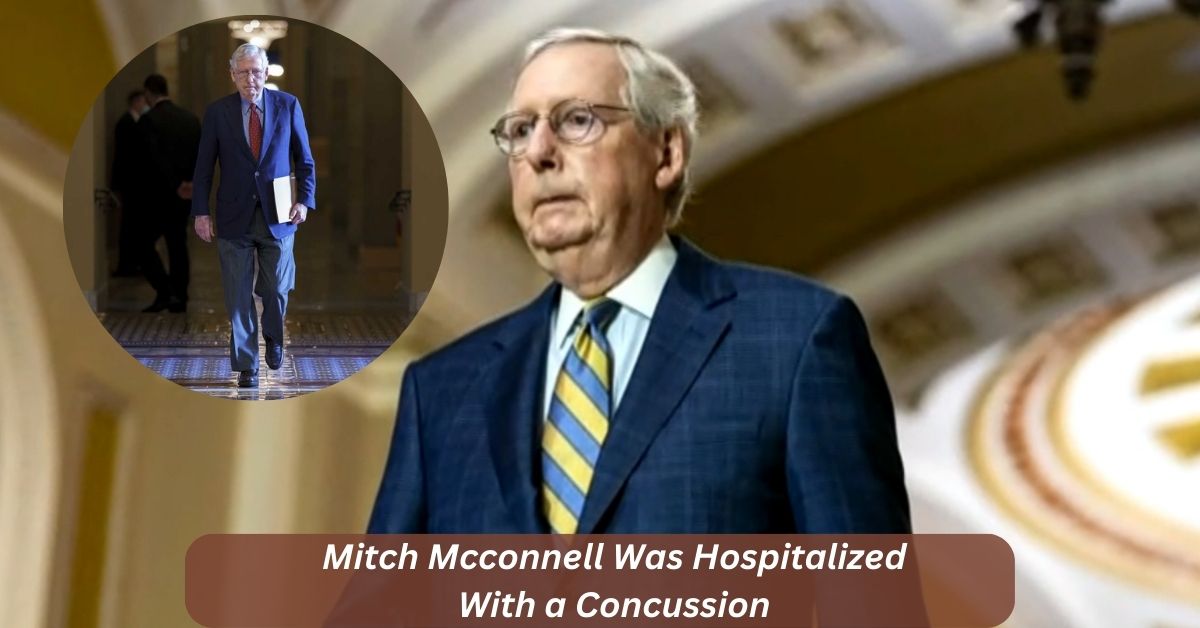 He did not say what caused the bruising. Snopes, a fact-checking website, said guesses ranged from:
"Covid-19 to the possibility that [McConnell] has a vascular disease and/or is undergoing dialysis and is taking blood thinners … a definitive answer is not yet available."
Due to illness, the Senate has recently been missing a number of its members. The office of the California Democrat Dianne Feinstein, 89, says she was sent to the hospital last week to be treated for shingles.
John Fetterman, a 53-year-old Democrat from Pennsylvania who had a stroke during his campaign the previous year, has been receiving treatment for clinical depression while he remains in the hospital. Thursday's hearing on the Ohio train hazardous spill included questions posed to Fetterman, who then filed his own.
Such absences have been difficult for Senate Majority Leader Chuck Schumer, who must govern with a 51-49 majority. On the Senate floor on Thursday, Schumer said he had called McConnell and spoken with his staff "to extend my prayers and well wishes."
"I joined every single one of my colleagues in wishing leader McConnell a speedy and full recovery."
John Thune of South Dakota, the second-ranking Republican, joined McConnell at the dinner on Wednesday to support a conservative Super Pac fundraising campaign, according to the Washington Post. Thune informed the media that McConnell spoke: "as usual."
"It happened later in the evening," said Thune, who had moved to another reception at the hotel when McConnell fell. Thune claimed he had not spoken to McConnell on Thursday at the Capitol. Thune said:
"We have very limited information. … I'm sure we'll get more."
In 1984, McConnell won a seat in the Senate. From 2015 to 2021, he served as the majority leader. He served as Jefferson County, Kentucky's judge-executive from 1978 until his election to the Senate. Although only the fourth-oldest member of the current Senate, McConnell has been its leader for the longest period.
Read some of these carefully curated articles to make the most of your time here. Continue reading for further information, and click on the following links for further specifics:
Feinstein is the senior senator by three months over fellow Republican from Iowa and age 89, Chuck Grassley. The independent candidate from Vermont is 81 years old. The contest for the Republican presidential nominee has included ideas for term and age restrictions on public officials.
Former South Carolina governor Nikki Haley, 51, believes candidates older than 75 should be subject to mental competency exams. Former president Donald Trump, the front-runner in the polls, is 76.
More information can be found on the website of County Current, where it can be accessed.