In northwest Indiana, heavy precipitation resulted in a messy evening commute, protracted delays, and snow-covered highways late Friday afternoon.
The Indiana Department of Transportation traffic cameras created the photos that the National Weather Service in Chicago tweeted at roughly 4:51 p.m. to demonstrate how much snow some areas had already received. It was anticipated that hazardous traffic conditions would last well into the evening.
This assortment of webcam images from @INDOTNorthwest shows poor road conditions across much of northwest Indiana due to the ongoing heavy snowfall. Numerous accidents have been reported this afternoon, and hazardous travel will continue here into this evening. #ilwx #inwx pic.twitter.com/mgfzdj4X44

— NWS Chicago (@NWSChicago) March 3, 2023
There are many articles like this one that you can read for updates and additional details. A relevant link is provided below:
As snow covered the area, numerous collisions were recorded, including one that caused lane closures along the Indiana Toll Road close to Chesterton and another on Interstate 80 eastbound close to Gary.
For further information, view the full Tweet that is provided below-
🚨 #ITRALERT: UPDATE: Incident at MM 32.8 westbound (west of Exit #39, Michigan City Plaza ) All westbound lanes are now open. #StayAlert

— Indiana Toll Road (@IndianaTollRoad) March 4, 2023
There were treacherous driving conditions everywhere, not just in northwest Indiana.
In a tweet sent out at 3:23 p.m., the National Weather Service warned that hazardous driving conditions would persist in Kankakee County, Illinois, and a portion of Will County. According to the NWS, the area will likely experience "intense snowfall rates," strong northeast winds, and possibly lightning strikes inside snow bands.
Read the whole tweet below for more information-
⚠️Heads up! Dangerous travel conditions will continue in the red-shaded area through this evening with intense snow rates and strong northeast winds. There are also numerous lightning strikes occurring within the bands of snow! #ILwx #INwx pic.twitter.com/pnFUKRnf4H

— NWS Chicago (@NWSChicago) March 3, 2023
Drivers are urged to drive carefully because snow is expected to last a few more hours in the area. If you have to drive, the Kankakee County Sheriff posted a message asking drivers to slow down and give themselves more time. The sheriff's office said that as of 2:23 p.m., there had been "Numerous accidents" all over the county.
Snow covered Interstate 57 in a photo taken by a traffic camera operated by the Illinois Department of Transportation, and there were few vehicles on the road.
The full tweet is available here for your convenience-
Road conditions continue to deteriorate roughly along & south of I-80 due to steady & locally intense snowfall. Numerous accidents have already been reported, and snow will continue for a few more hours here, so slow down if driving! Image courtesy of @IDOT_Illinois. #ilwx #inwx https://t.co/6NRL4O5ahx pic.twitter.com/6mBuL4akaT

— NWS Chicago (@NWSChicago) March 3, 2023
According to the National Weather Service, a "complex" storm system was about to sweep into the region on Friday. Kankakee County was expected to have "heavy, wet snow" with total snow accumulations between three and six inches.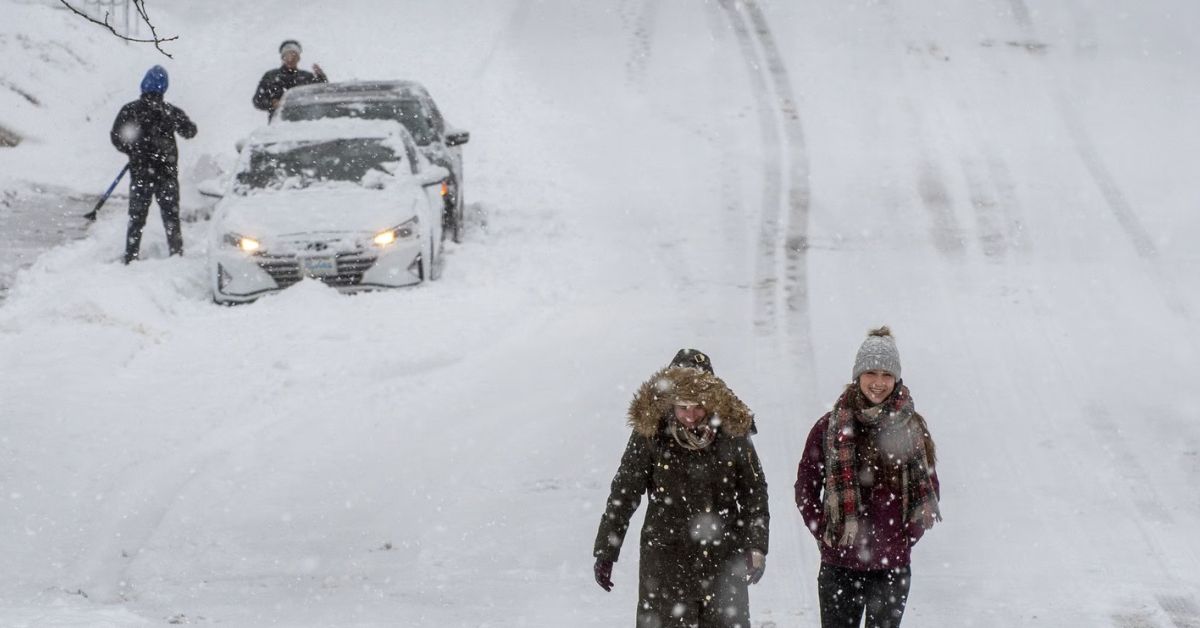 At 2:00 pm on Friday, a winter storm warning went into effect for Lake, Porter, Newton, and Jasper counties in Indiana and Kankakee and eastern Will counties in Illinois. A winter weather advisory was enacted at 2 o'clock in Grundy, northern and southern Will, and southern Cook County. There, it's more likely to see a wintry mix of rain and wet, slushy snow, with a "brief period of heavy snow rates and sharply reduced visibility possible."
If you want the most up-to-date information and breaking news in your county, be sure to follow us on Twitter.