On Sunday, a high school senior from Sumner County was honoured by her family, friends, and teammates at TriStar Skyline Medical Center as she got ready to donate her organs. Aleya Brooks, a freshman at Liberty Creek High School, was apparently helping her family clean up after the severe storms on Friday, March 3, when a tree fell on her, severely injuring her.
Aleya's father announced her death from a catastrophic brain injury on the memorial fund's GoFundMe website on March 4. However, her school indicated she would be on mechanical support until Sunday, March 5. Aleya may only have been 15, but she has already made an indelible mark on her peers.
"She was a teammate who never gave up on people," Liberty Creek High cheerleader Ava Guy said.  "She always was very strong for us, and no matter what she did, it was always for others and not for herself."
Aleya was one of the first students to enrol at the school when it opened in August, and she was a key player in the school's historic national championship victory just a few short weeks ago.
"We had a stunt fall, and if you went on the pictures and looked at everyone's faces, they were all pretty crazy," another teammate, Kenzie Schell, said. "And I just remember Aleya had the biggest smile on her face, and she knew that her stunt was falling, but she didn't let that affect anything and she finished that routine with a smile on her face."
Make use of the links that have been provided in order to keep up with the County news and to ensure that you never miss a story regarding your community:
This contagious energy was also mentioned by Aleya's boyfriend, Daxton Davis.
"Aleya has meant a lot to this team, and it's not a team, it's a family now," Daxton said. "I would just want to say thank you for being an example of what everybody should strive for. We all loved her and she showed the love of Christ like nobody else I've ever known."
Aleya is remembered most for her religion.
"I was saying to some of my friends today, how amazing it would be to see her face when she finally got to meet Jesus because he was her best friend and it would have been priceless to see that," Kenzie said.
"She never made us feel anything but encouraged and I think that that will have a lasting impact on our program," another cheerleader, Kinslie Lowery, remarked.
Dalania Davis believes that Aleya's decision to donate her organs was a noble act, which did not surprise her.
"I wouldn't even know how to explain it. Like, she would be overjoyed to see how many lives (were) impacted because of her," Dalania said.
In lieu of flowers, Aleya's family is asking that donations be made to Long Hollow Church in Hendersonville, which paused during worship on Sunday to honor Aleya's faith, and to a group dedicated to brain disorder research because Aleya always wanted to be a neuropsychologist.
"Even in her passing, we want to help her continue her legacy of loving people and making a difference in lives around the world…all while loving Jesus with all her heart and being a light to the world," the GoFundMe page said.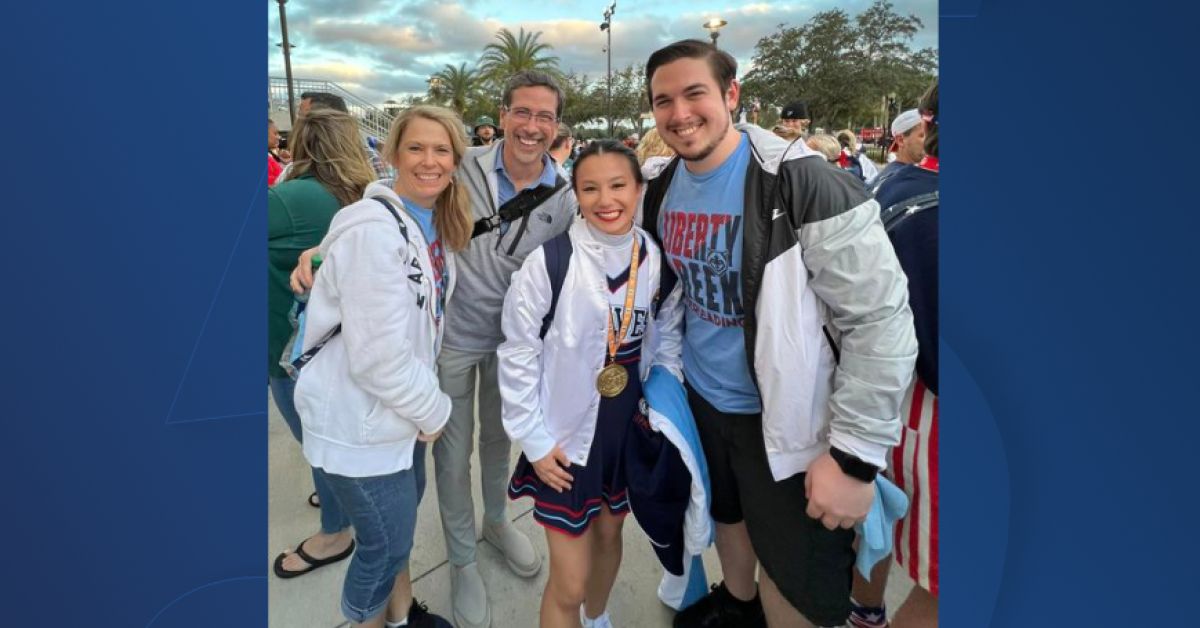 Larry McCann, Aleya's neighbor, is credited with assisting in transporting Aleya to the hospital after the incident in which the tree injured her. He told News 2 on Sunday that after hearing Aleya's tale, more than a hundred individuals wanted to be baptized at Long Hollow Church.
"It is very true through tragedy. We do not always understand why but there's always a silver lining. Even after her passing she is still bringing people to the Lord," McCann told News 2 in a message.
A man in McEwen was killed when a tree fell on his car, a woman in Hendersonville was killed when a tree fell on her, and a man in Simpson County was killed when he was struck by a metal carport. At least three more storm-related deaths have been reported in Middle Tennessee and Southern Kentucky since Friday.