Donald Trump gave a speech in which he professed his love for the state and said he would buy a farm after losing the 2016 Iowa GOP caucus. The former president returned on Monday, but not to see the farm he ultimately decided against buying. Instead, he returned to win over the voters who would send him back to the White House.
The eastern region of Iowa, which usually hosts the first-in-the-nation GOP caucuses, is where Trump spent the evening. He made a pit stop at a restaurant where he took pictures with patrons before gushing about his chances of capturing the state that evaded him seven years earlier.
He appeared very pleasant and showed little sign of being stressed out by the legal issues surrounding him. He was sometimes aggressive, calling Florida Governor Ron DeSantis, who was seen as his main rival, "a RINO loser" and a "disciple" of former House Speaker Paul Ryan. Trump said of DeSantis:
"To be honest with you, I don't think he's going to be doing so well here."
Additionally, he was approachable, engaging with the press several times and even allowing audience members to ask him questions. At times, it reminded me of his 2016 campaign, when he dominated the media and established himself as a mainstay on the way to surprising victories in the primaries and general elections.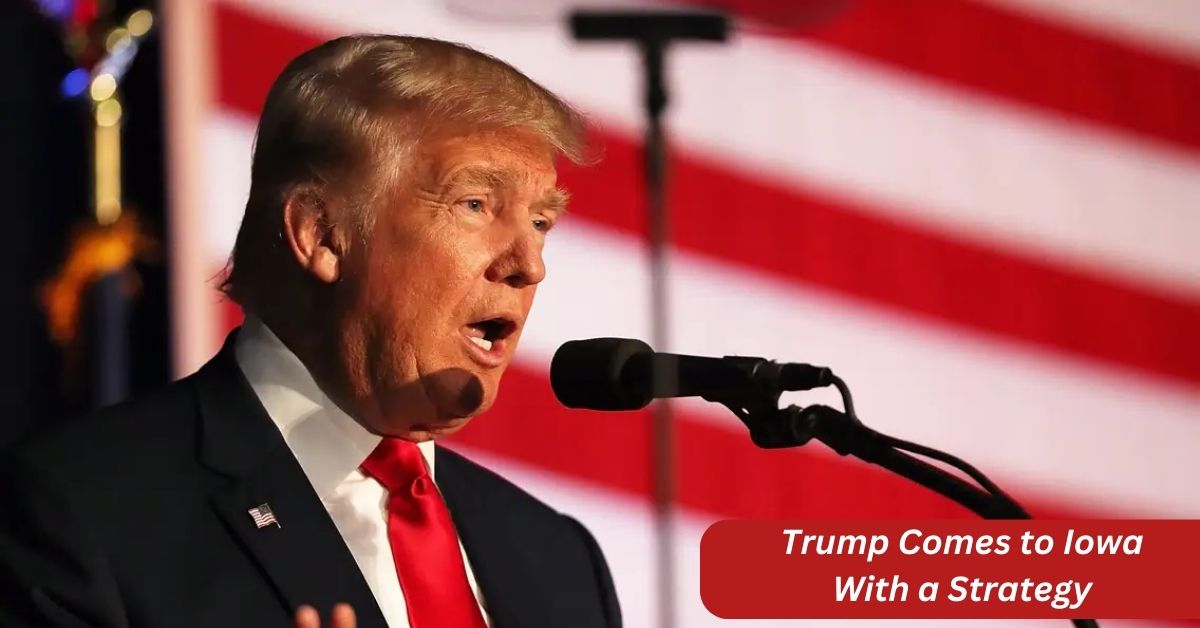 Trump has privately told his campaign that he does not want a repetition of the 2016 Iowa primary, where he thought he was outorganized by his rivals and came in second to Texas Senator Ted Cruz. He has related how his daughter Ivanka visited a caucus location in Iowa only to discover that the campaign had no representation there.
The Monday visit was an early effort to avoid making the same mistakes. It happened just a few days after DeSantis made his own Iowa debut, a trip that also included a stop in Davenport. This city borders the state's eastern region and is frequently visited by presidential candidates.
DeSantis has been marketing his recently published memoir in states with early primary elections since he is thought to be Trump's most formidable prospective direct rival. He is touring the early states to promote his recently published memoir.
After declaring her candidacy last month, former U.N. ambassador Nikki Haley visited the region, more recently, Sen. Tim Scott of South Carolina, another potential contender, stopped in Iowa.
A little after 2 p.m., the former president boarded his own aircraft, which staffers called "Trump Force One," with gold-embroidered seats and a sound system that plays "Phantom of the Opera" and oldies. A group of senior advisers, including Susie Wiles, Chris LaCivita, and Brian Jack, traveled with him from West Palm Beach.
He was accompanied by Matt Whittaker, an Iowa native who served as his acting attorney general. Everyone in Iowa has not supported a Trump resurrection. The influential evangelical vote base in the state has not been warm to the three-times-married Trump's quest for president in 2024.
Longtime evangelical leader in the state Bob Vander Plaats, who supported Cruz over Trump in 2016, has even asked Trump not to run in the 2024 election. Although organization usually plays a significant role in determining the outcome of the caucuses in the state, Trump has been making early advances there.
He has spent the previous two years running full-page advertisements in Iowa Republican Party magazines to keep Iowa first on the party's nomination calendar. This cause is vital to the state's conservative activists. At a rally he conducted in Sioux City last year, he featured Jeff Kaufmann, chairman of the Iowa GOP, more recently, he appointed Bobby Kaufmann, a state representative, as a senior adviser.
The son of longtime former Iowa Governor Terry Branstad, Eric Branstad, and two other operatives from Iowa have also been assisting. In many parts of the party, Trump's campaign is viewed as more skilled and prepared than the one he ran in 2016. The current race is fiercely contested.
According to a Des Moines Register poll conducted last week, Republicans in the state had comparable support for Trump and DeSantis, with 80 percent favoring the former president and 75 percent supporting DeSantis. Speaking to journalists at the Quad Cities International Airport shortly after his arrival.
Trump expressed optimism about his chances in the state and mentioned that he had won Iowa in the general elections of 2016 and 2020. Given that he had previously endorsed the state's Republican governor, Kim Reynolds, he also expressed confidence that she would back him.
After leaving the airport, Trump went to the Machine Shed restaurant in Davenport, where he posed for photos with patrons and inquired about the food. Trump said as he posed for photos with supporters wearing "Trump Won" T-shirts, "They're right about that," 
Then, as his limousine wound to the Adler Theatre, Trump bragged about his accomplishments, lambasted President Joseph Biden, and trolled Governor Ron DeSantis, alleging that the latter had supported cutting agricultural subsidies and fought to reduce entitlement programs.
If you click on the links that we have provided below, you will be able to read some news that is linked to Trump:
When he pledged to defend Social Security and Medicare, the former president was greeted with cheers. Trump's team exploited the occasion to establish their structure in the state. Advisors claimed to have gathered information, such as names, home and cell phone numbers, and email addresses. They would utilize the data to ensure that the supporters would participate in the caucuses the following year.
According to prominent Iowa-based GOP strategist and Trump detractor David Kochel. Yet a victory wasn't guaranteed, Kochel said:
"in a position where he absolutely should win Iowa, given that he is the former president and starts with a ton of key contacts and a big base of support." 
Kochel continued:
"There does appear to be a lot of folks who are keeping their options open, taking a look at who's joining the field."
But Nick Ryan, another Republican strategist in the state, called Trump "the favorite," given his past incumbency. Ryan said:
"For anyone to beat him they would need to offer a compelling alternative."

"That takes a lot of time, even more work and a little luck."
Please keep in touch through County Current so we can update you on the most recent news.