Virginia Elaine Davis, 94, of Albert Lea, formerly of Clarks Grove, Minnesota, dἰed on Monday, January 16, 2023, at Thorne Crest Senior Living Community in Albert Lea.
Charles and Effie (Thompson) Peterson welcomed her on April 12, 1928, in Udolpho Township, Mower County, Minnesota. Virginia finished eighth grade in a one-room rural school and attended Blooming Prairie High School, where she received her diploma in 1946. After graduating, she worked as a telephone operator at Northwestern Bell in Austin.
She was baptized and confirmed in Rural Austin's Red Oak Grove Lutheran Church. Virginia and George Davis were married on June 1 in a double ceremony at Red Oak Grove Lutheran Church that also included Dorothy and Allen Johnson, George's sister. Arden, Roger, Kevin, and Carol were the children George and Virginia were blessed with. They lived in Clarks Grove after retiring from the Davis family farm in Newry Township in 1997.
Virginia has been a lifelong member of Red Oak Grove, taught Sunday school, held the office of WELCA president, and participated in the Rebekah Circle. She enjoyed helping at events like the Strawberry Festival, reading the Bible, welcoming people on Sunday mornings, and serving coffee alongside the Red Oak Grove women.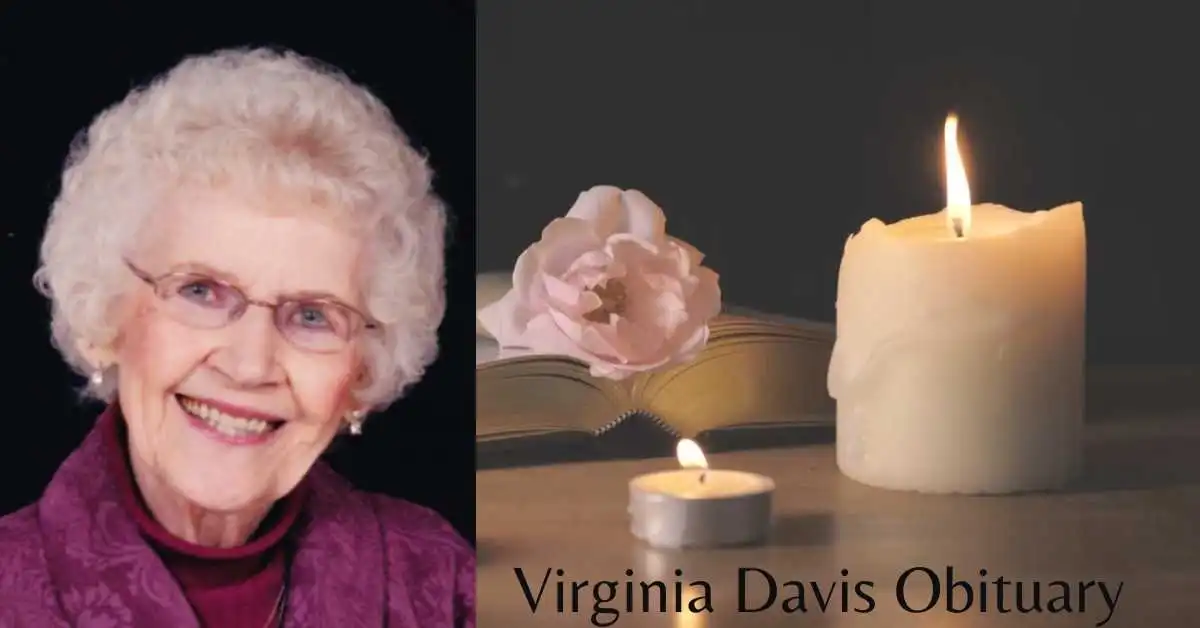 You may wish to read the obituaries of some further people who have pἀssed away in recent times:
Virginia participated in Freeborn County Home Extension, served as a 4H leader, belonged to the Newry Merry Homemakers Club, and represented the county in the Southeast District. She loved baking, cooking, eating out, decorating her house, hosting parties, and keeping a journal. She was devoted to her family beyond all else, and she will be sorely missed.
Virginia is survived by her daughter Carol (Tony) Jensen of Rockford; her three sons Arden (Tammy) Davis of Rapid City, South Dakota, Roger (Marcia) Davis of New Ulm, and Kevin (Kirsten) Davis of Albert Lea, as well as her twelve grandchildren, Brooke Larson, Matthew Davis, Robert (Marina), Christopher Davis, Michael (Dana) Davis, and Derek Moseley, Ethan,  Annika, Leiana, and Julia Jens.
Her parents, Charles and Effie Peterson, her husband George Davis, her sisters Esther Peters, Muriel Dahl, and Bertha Everson, brothers Donald and Dale Peterson and her infant siblings, Phyllis and Spencer all predeceased her.
The Red Oak Grove Lutheran Church in rural Austin will host a memorial celebration of life on Wednesday, April 5, 2023, at 11:00 a.m. Reverends Leandra Anderson and Kathy Ulland-Klinkner will officiate. The visitation period will start an hour before the service on Wednesday. Private interment will be at Red Oak Grove Cemetery in the summer. Red Oak Grove Lutheran Church, the Red Oak Grove Cemetery Association, or the donor's choice are suggested memorials. The Austin-based Worlein Funeral Home is aiding the family with the arrangements.
Note: That is the extent of our present knowledge of Virginia Davis. We will share additional information about her with you as soon as possible. Send your sympathies to her family in the comments section below.
If you're interested in the most up-to-date information regarding recent deἀths, causes of deἀth, autopsy reports, obituaries, and more, be sure to follow us on Twitter.