Brad Catto, a paramedic of Munhall Area Prehospital Services, passed away on August 29, 2023. Brad Catto, a great person from Pittsburgh, Pennsylvania, set out on a path of unflinching dedication and service that etched itself into the collective consciousness of firefighters and paramedics.
Being a junior volunteer firefighter at a young age set him on the route to a profession in public safety, which he relentlessly followed after turning 18 years old. Being the first firefighter in his family, Brad saw his work as a paramedic and a firefighter as more than simply a profession.
He carried this calling with the highest devotion. Throughout his entire journey, he carried the conviction that this career was about achieving a greater good. Brad's dedication to greatness was seen in his academic endeavors.
He obtained a paramedicine degree from the Community College of Allegheny County while also working for an ambulance service in Pittsburgh for two years. His remarkable career as a paramedic was made possible by this foundation.
His professional history provided evidence of his ever-expanding skills. He served as a paramedic for two years before spending four years in the position of paramedic supervisor at the Fayette Fire District in Pittsburgh, which responded to an astounding 15,000 calls per year.
Before pursuing new goals, his perseverance and leadership eventually earned him the title of lieutenant. Brad moved to the Grand Strand and worked three years as a fireman and paramedic at the Murrells Inlet Garden City Fire District with distinction.
His dedication to perfection was evidenced by his specialist training, which included Firefighter 2, nationally certified paramedic, and specialized fire and EMS training. Brad had a successful personal life in addition to his career.
He started construction on a house with his wife Emily, a medical biller and coder. Travel, sports, and taking in the peace of the beach were among their common interests. Brad was an enthusiastic admirer of all of Pittsburgh's sports teams, but especially the Steelers and the Penguins.
His love of music and interest in polka dancing showed how full of life he was. Brad's desire to continue enjoying life to the fullest without looking back resonated with his sincere gratitude for each moment that he had.
Brad Catto's coworkers, friends, and loved ones will always treasure his legacy. Those who were fortunate enough to have known him say that his dedication, enthusiasm, and unshakable commitment to his career and personal goals have left a lasting impression.
Continue reading to learn more about the circumstances surrounding his passing.
Brad Catto Obituary and Funeral Service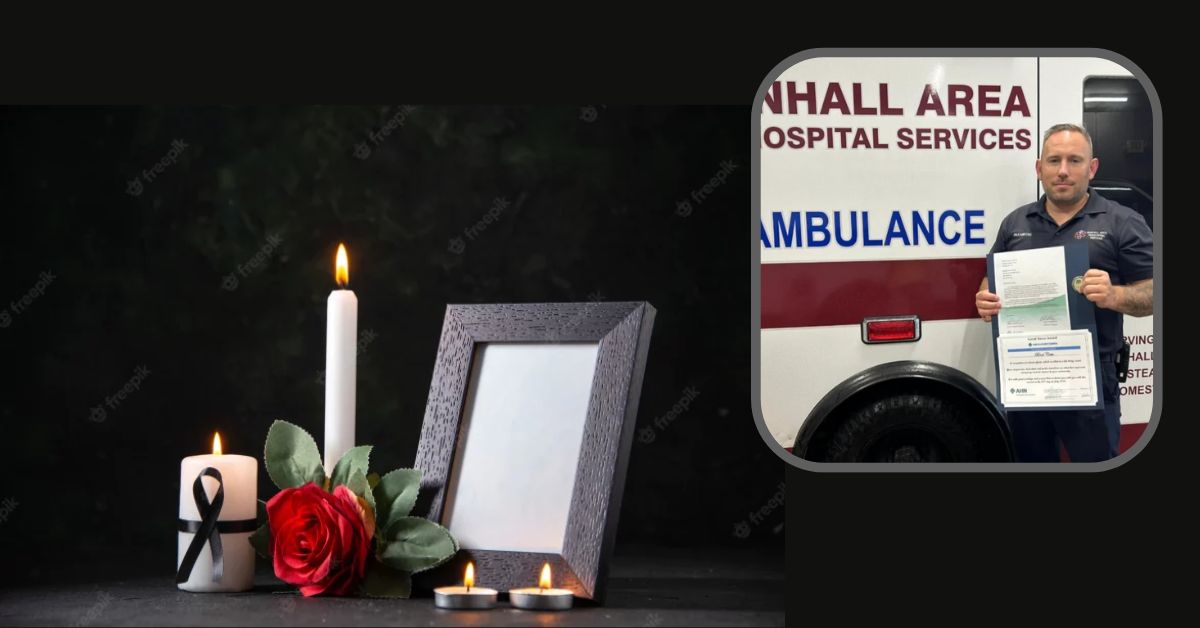 Brad Catto, who was born in Pittsburgh on August 21, 1986, was adored by his parents Robert S. and Patricia Keogh Catto. He started on a journey that would have a long-lasting effect on many people's lives after graduating from Canon-McMillan High School in the class of 2005.
Do you know that Edward Baldwin Self III died on August 12, 2022, after a month-long battle with Covid-19? Please take a moment to read the obituary for Eddie Baldwin:
In McDonald, Pennsylvania, where he started his career with Fort Cherry Ambulance Service, he became a Paramedic/Firefighter due to his commitment to public service. His dedication grew over time to include the fire departments in Peter's Township, North Strabane, Murrell's Inlet, SC, Munhall, and Monroeville.
Brad had a greater impact on the Fire and EMS Service industry than just his certification alone since he continually went above and beyond to help those in need. When he was recognized by the state for saving the most lives while working for Murrell's Inlet Fire Rescue in South Carolina, his commitment was recognized.
Brad's heart belonged to his family more than his career. His children, Avery and Grayson Catto, who had a particular place in his heart, brought him comfort and joy. His extended family included his brothers Robert (Ali) Catto, Jr. of Mt. Lebanon, and Chad Catto.
His twin brother from Cecil, and Christina (Joshua) Catto from Freeport, Florida. Vinny, Cooper, Vivienne, and Brooke Lesher, as well as his ex-wife Emily Catto of Canonsburg, all enjoyed his adoration.
Those who knew and loved Brad will always cherish their memories of his paternal grandfather Robert Catto and maternal grandparents John and Arlene Keogh. See his obituary details below:
We come together as a community to celebrate Brad's life and legacy. On September 6, 2023, from 4:00 to 7:30 p.m., friends and family will assemble at the Coleman-Tyalor Funeral Services in Cecil, Pennsylvania 15321. A Celebration of Life will start at 7:30 PM to honor a life that touched many people's hearts and made a lasting impression on the globe.
We have recently covered some similar articles If you want to read them, click on the link below:
What Happened to Brad Catto?
Munhall Area Prehospital Services is sharing the sad news of Paramedic Brad Catto's untimely death, which occurred on Tuesday, August 29, 2023, with heavy hearts. Catto had an immeasurable impact throughout his one-and-a-half years at MAPS, creating a lasting impression on innumerable patients and coworkers.
Brad Catto left a lasting impression on other stations over his illustrious career, in addition to his work at MAPS. At Murrells-Inlet Garden City Fire, Fort Cherry Ambulance, Monroeville 6, and Bristol FD, he worked as a devoted FF/paramedic.
Brad has worked in the field of public safety for almost 20 years, and his dedication to his neighborhood has never wavered. Over the course of his trip, which lasted roughly 20 years, Brad Catto willingly committed himself to securing the welfare of others.
He turned 37 only a week ago, which speaks much about his vivacious energy and commitment. It's difficult for us to comprehend the magnitude of the loss Brad's family, friends, and longtime coworkers must be feeling as we struggle with our own sadness.
We send them our best wishes from the bottom of our hearts and ask everyone to take care of themselves at this trying time. We promise to carry on the important job Brad Catto devoted his life to in his memory. We promise to continue on his legacy as we say goodbye to a committed paramedic, fireman, and friend. Rest in peace, brother. We will proceed from here.
Our deepest sympathies go out to the families and friends of the deceἀsed. Be sure to bookmark our site Countycurrent.com for more obituary news updates.