De'Von Achane is a running back in the National Football League (NFL) for the Miami Dolphins. He attended Texas A&M University and was a unanimous All-American in 2022.
Achane is a dynamic offensive weapon who can play running back, wide receiver, and slot receiver. He is well-known for his quickness, agility, and elusiveness. On special teams, he is also a dangerous returner.
Achane led the Southeastern Conference (SEC) in yards per attempt (7.0) as a sophomore at Texas A&M, rushing for 910 yards and 11 touchdowns. After rushing for 140 yards and two touchdowns in the Aggies' 41-27 victory over North Carolina, he was voted the Orange Bowl Most Outstanding Player.
Devon Achane Injury Update
De'Von Achane, a great Miami Dolphins running back, is presently out with a knee injury. Earlier in the season, he had quickly become a popular choice for fantasy football players.
In Week 3, he made an impressive debut, rushing for 203 yards against the Denver Broncos. Following that, he ran for over 100 yards in two more games. His promising run, however, came to an end when he suffered a knee injury during a game against the New York Giants.
Check out the below post about DeVon Achane Injury:-
𝗥𝗘𝗣𝗢𝗥𝗧: #Dolphins star rookie RB Devon Achane is dealing with a knee injury and his status for Sunday is up in their air.

Head Coach Mike McDaniel wouldn't elaborate too much on the injury. He said it's "to be determined" pic.twitter.com/YkwjOScvMG

— JPAFootball (@jasrifootball) October 9, 2023
Many fantasy football players and Miami Dolphins fans are waiting to see when De'Von Achane will return to the field. The coach remarked that Achane's recuperation was going well and that he appeared to be very motivated. He even compared Achane's commitment to that of a more seasoned player, citing his enthusiastic participation in team meetings and activities. This was good news for Dolphins fans.
Achane suffered a knee injury in Week 5 against the New York Giants. Although he initially left the game, he was seen on the field afterward, offering hope that the injury was not too serious.
Unfortunately, it was later revealed that Achane would be forced to miss a number of games. He was placed on the injured reserve list by Miami, which means he will miss some games.
You can also take a look at other celebrities' recent injury details we have provided you in the below posts:-
Devon Achane Career
De'Von Achane's illustrious career in American football began at Thurgood Marshall High School in Missouri City, Texas. During his high school career, he rushed for 4,795 yards and scored 87 touchdowns, leaving a lasting impression.
His extraordinary talent earned him a 4-star recruit ranking, placing him 96th overall in the country. Achane excelled in track and field and was awarded the 2020 Texas Gatorade Boys Track & Field Athlete of the Year.
His dedication to the game led him to enroll at Texas A&M University in December 2019, kicking off his college football career. As a true freshman at Texas A&M in 2020, Achane was an important backup to Isaiah Spiller, gaining 364 yards on 43 runs and scoring four touchdowns.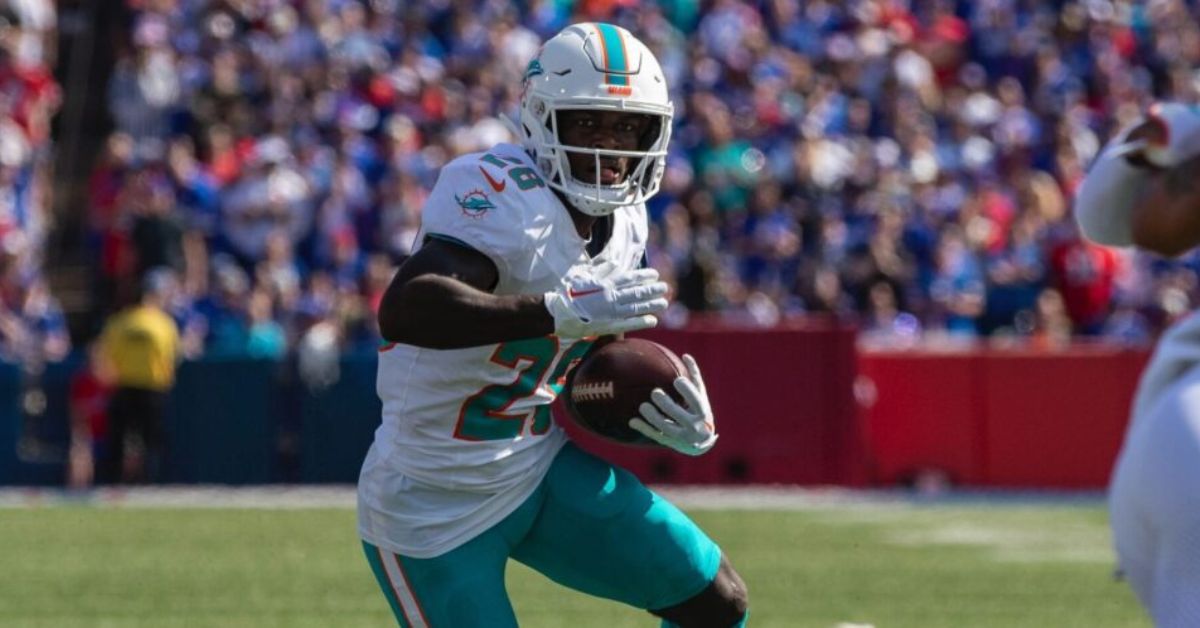 With 97 receiving yards and one receiving touchdown, his flexibility shined through as well. But it was in the 2021 Orange Bowl that he truly excelled, garnering MVP honors with 140 yards on 12 carries and two rushing touchdowns.
Achane's NFL ambition came true in 2022 when the Miami Dolphins selected him with the 84th pick in the third round of the 2023 NFL Draft.
His debut against the Denver Broncos in Week 3 was nothing short of amazing, with 203 rushing yards, 30 receiving yards, and four total touchdowns in the Dolphins' rout of the Broncos, 70-20.
However, his promising start was cut short when he suffered a knee injury in a Week 5 win over the New York Giants, forcing him to be placed on injured reserve. Despite this setback, De'Von Achane's career is still full of promise and potential, with supporters eagerly anticipating his return to the field.
You can follow us on our website countycurrent.com if you want to know more about the health of other players, updates on their injuries, and other information.